Get ready for an exciting opportunity to grab book two of the Starfighters series! On Wednesday, October 4th, and Tuesday, October 10th, the book will be available for free on Amazon. This is your chance to snag a copy and leave your valuable first reviews. Make sure to mark this date in your calendar and spread the word among your friends, so they can also claim a free copy of this thrilling sequel. Don't miss out on being among the first to explore the newest adventures in the Starfighters universe!
Bruce Goldwell is thrilled to announce the release of book two in the critically acclaimed Starfighters series, offering fans and readers the next chapter in this epic space opera. Following the success and excitement around book one in the series, Bruce, along with co-author Lace Brunsden, has crafted a breathtaking and immersive experience that will leave readers hungry for more.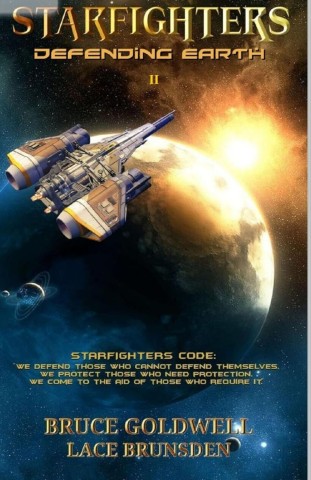 Book two of Starfighters continues the exhilarating tale of a group of interstellar pilots waging war against an ever-growing evil forces that threatens their universe. The gripping narrative is filled with unforgettable characters, high-stakes action sequences, and unexpected twists that will keep readers on the edge of their seats throughout this fantastic journey.
This thrilling new installment delves even deeper into the captivating world of Starfighters, immersing readers in uncharted regions of vast and enigmatic space brimming with captivating new races and awe-inspiring civilizations. Prepare for heart-pounding dogfights between agile starships, exhilaratingly close encounters with previously undiscovered alien species, and ferocious battles waged in defense of the cosmos.
In light of book one's success and international acclaim, including positive feedback from both casual readers and die-hard science fiction fans alike, book two promises to fulfill everyone's expectations. The authors have devoted painstaking attention to detail in order to create captivating new worlds and intriguing relationships that will leave readers emotionally invested in the Starfighters' fates.
For those who have yet to embark on this epic adventure, now is the perfect time to pick up book one and dive headfirst into this remarkable space opera. As we release book two, we invite you on a thrilling journey where every page unveils an awe-inspiring new world brimming with danger and teeming with life.
Prepare yourselves for liftoff as you embark on your greatest adventure yet! Don't miss out on the newest installment of this exciting saga – book two of Starfighters, The Continuation of the Starfighters Defending Earth Space Opera, available now on Amazon.
More Goldwell books are available at: http://mykindlebooks.net
Media Contact
Company Name: Bruce Goldwell
Contact Person: Bruce Goldwell
Email: Send Email
Country: United States
Website: http://www.imalocalauthor.com/