Elevating Medal Display with Quality Craftsmanship and Meaningful Stories.
United States - October 3, 2023 —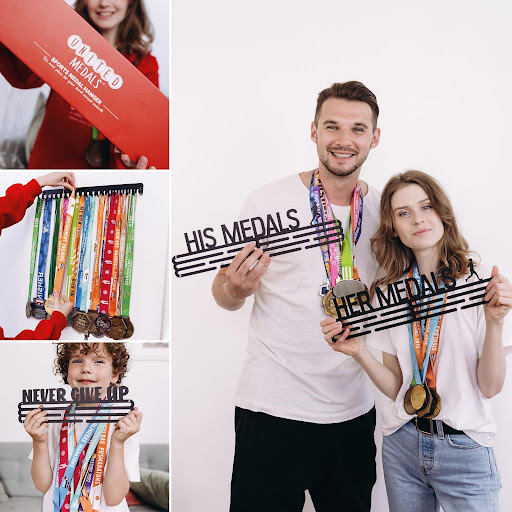 United Medals, an internationally trademarked brand, is one of the leading medal hanger manufacturers for runners and other sports. A small business based in the European Union (Latvia), United Medals has built a global reputation for producing premium-quality steel medal hangers. With over 150 unique designs in its product range, the brand has made it easier than ever for sports enthusiasts and athletes worldwide to display their hard-earned medals proudly. 
Founded in 2017 in Riga, Latvia, by two friends who shared a passion for running and cycling, United Medals has grown exponentially. The brand's founders, Jurijs Kudrjavcevs and Dmitrijs Lasko, themselves amateur athletes, recognized the need for high-quality medal hangers to store medals neat and organized and celebrate the achievements of athletes from various sports.
The brand's medal hangers are designed in-house in Europe and sold globally. United Medals medal hangers have customers in more than 50 countries across the globe.
A medal hanger is a simple but functional product. It's a designer-created metal plate with bars for hanging medals and a motivational quote or a catchy phrase above the bars. Apart from its primary function – storing the medals – this makes the medal hanger an eye-catching interior piece. Customers can choose from various designs, sizes, and surface finishings, including brushed stainless-steel finishing or a more contrast-looking powder coating.
"We are happy to see our clients sharing their achievements and showcasing their medal collections on social media – Instagram, TikTok – and are glad we are part of their athletic journey. Our product is designed to not only store medals but also to showcase them with pride", says Dmitrijs.
"Since the start of our brand more than five years ago, our medal hanger product range has expanded from just one design to more than 150 options of different sizes and colors," adds Jurijs. "Depending on the model and ribbon width of the medals, United Medals' hangers can accommodate anywhere from 20 to 60. Each medal hanger is shipped in an individual box, safeguarded against transportation damage, and the package includes all the necessary components for easy wall mounting."
United Medals has built a strong presence on Amazon (USA and Europe), earning customers' trust worldwide. Amazon Prime customers from the USA, UK, Germany, France, Italy, Spain, and other countries can get free 1-day product delivery.
The company's customer base is diverse, primarily consisting of runners, gymnasts, swimmers, cyclists, triathletes, and other athletes. Even though it mainly consists of recreational amateur athletes, many famous athletes are among United Medals' customers, including an Olympic medalist from Latvia. 
The brand is delighted to receive recognition as a top-tier independent medal hanger manufacturer.
United Medals has received more than 2,000 positive Amazon Reviews: 
"I am thrilled with my United Medals medal hanger! As a marathon runner, I've earned numerous medals and wanted a stylish and functional way to display them. This item exceeded my expectations. The craftsmanship is outstanding, and it was effortless to install. The package includes all the mounting hardware and instructions. Whenever I look at my medals on the wall, I'm reminded of the hard work and dedication that went into earning them."
"I purchased a United Medals medal hanger for my gymnast daughter. It was love at first sight – the elegant design captured the essence of her love for the sport. What I appreciate most is how easy it was to mount – no need to hire a handyman! It's now a focal point in her room, motivating her to keep pushing herself in gymnastics."
Apart from Amazon, United Medals medal hangers can be bought on the company's website and Etsy shop.
In addition to its thriving online presence, United Medals actively seeks potential retailers interested in reselling their products in physical outlets across the globe.
According to the brand, their medal hangers make thoughtful gifts for adults and children for various occasions, including Christmas, New Year, birthdays, Mother and Father's Days, and other significant milestones. They make great items to celebrate past achievements and stay motivated for the new ones to come.
For more information about United Medals and their exceptional range of medal hangers, please visit their website at www.unitedmedals.com. For inquiries regarding potential retail partnerships or any other queries, please contact their dedicated team through the contact information provided on their website.

Contact Info:
Name: Customer support
Email: Send Email
Organization: United Medals
Website: http://www.unitedmedals.com/

Release ID: 89108860
Should you identify any discrepancies, concerns, or inaccuracies in the content provided in this press release or require assistance with a press release takedown, we strongly urge you to notify us promptly by contacting error@releasecontact.com. Our responsive team is committed to addressing your concerns within 8 hours by taking necessary actions to resolve identified issues diligently or guiding you through the necessary steps for removal. Our dedication lies in providing accurate and reliable information.