--News Direct--
Supra has raised over $24m in private investment rounds.
Supra has received investment from several multi-billion dollar prominent VCs including: Animoca, Coinbase Ventures, HashKey, Prosus Ventures, Razer, United Overseas Bank Venture Management, Valor Equity Partners, among many more.
Supra is developing an innovative cross-chain oracle and "bridgeless" communication network that aims to achieve sub-2 second finality with security guarantees that are projected to be over 10x more secure than incumbent bridges using their bespoke consensus algorithm, "Moonshot Consensus."
Supra is helping to facilitate the massive migration of Web2 to Web3 by turbo-charging oracles, cross-chain communication protocols, and their cutting-edge consensus mechanism to build a more secure and interoperable future. There are already over 1.5 million cryptocurrency data pairs being updated daily using Supra's next-gen oracle technology.
Over $24m in private investment funding has been accepted from strategic partnerships that recognize Supra's game-changing R&D at the cutting edge of the Web3 stack. With several whitepapers spanning 150+ pages in peer-academic review, Supra's team of PhDs has been making significant contributions to the body of academic work in secure multi-party computation, decentralized consensus, and blockchain oracles. Leading the way is Dr. Aniket Kate, known best for his work on KZG Polynomial Commitments that underpin Ethereum's L2 scaling roadmap, Supra's innovations are quickly becoming the new standard for state-of-the-art for oracle protocols.
As for funding, Supra has received support from some of the world's largest digital asset funds and organizations, including: Animoca Brands, BCW, Coinbase Ventures, FiveT Fintech (formerly Avaloq Ventures), Galaxy Interactive, Hashed, HashKey, Huobi Ventures, No Limit Holdings, Prosus Ventures, Razer.com, Republic Crypto, Shima Capital, Signum Capital, SMO Capital, Sound Ventures, Sublime Ventures, UOB Venture Management (United Overseas Bank), and Valor Equity Partners.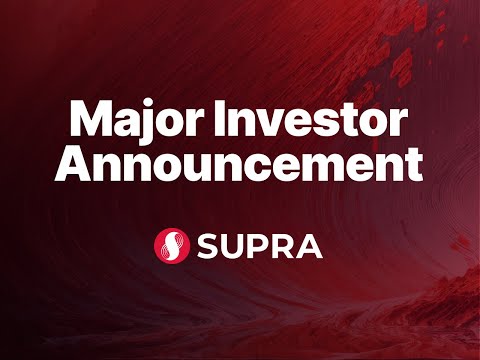 In order to decentralize ownership and governance of the network, over 500 other funds, node operators, and angel investors have been brought in amongst these prominent names to help strategically distribute the token supply. Increasing distribution of their token is critical to the long-term success of Supra's decentralized network.
Furthermore, Supra has recently announced a major gamified learn-to-earn airdrop opportunity for community members to further distribute $SUPRA to a wide range of stakeholders. Users can check out their Countdown to Blast Off campaign to join other Supra cadets and learn more. Through their gamified learn-to-earn program, Supra is projected to have over 500,000 KYC'd token holders during their Token Generation Event, which is set to occur in early 2024.
Moving forward
Joshua Tobkin, CEO and Co-Founder of Supra, said he's excited to bring Supra to market and give DeFi developers and end consumer a provably fair, high-performance oracle service.
"We're very pleased to have achieved the support of some of the biggest names in the blockchain industry," he stated.
"Building our network of strategic partnerships is extremely important to our future growth. These partnerships will go a long way towards developing the momentum necessary to bring a much needed security upgrade to the oracle space to further protect DeFi."
"Too many people have already been negatively impacted by decentralized finance hacks or exploits, and too much money has been lost. We see our cryptography driven solutions as a way to take speed and security guarantees to the next level, which ensures a higher level of protection for end consumers. We need to level the playing-field and we can't do that until we secure oracles and bridges, which have been the weakest link in Web3. This is an absolute necessity in order for blockchain to achieve its full potential."
Animoca Brands
Yat Siu, the Co-Founder and Chairman of Animoca Brands, commented: "Oracles are an important link bridging data portability and interoperability across different networks, and we're therefore thrilled to support Supra as one of the projects developing the essential technological basis for a truly open metaverse."
Republic
Alex Ye of Republic Advisory said: "The crypto industry had not committed to solving the oracle problem until Supra played the patient game and did their research on L1 consensus for oracles. While others might have come first to market, they all end up delaying the inevitable that Supra now fulfills. Oracles are both the key to cross-chain infrastructure, whether that comes from on-chain or off-chain data. Supra is the key that unlocks the real potential of cross-chain liquidity, multi-chain web3 applications, and more. I fully expect Supra to be the brand name internet infrastructure among traditional financial institutions and Web3 developers as synonymous as AWS, IBM, and Google in the Web2 world."
Hashed
A spokesperson for Hashed said: "Oracles are currently the single most utilized vector for exploits, and it's crucial for the industry as a whole to experiment with different trade-offs to improve this crucial infrastructure. We're excited to be a part of Supra's journey as their approach to advancing speed and security with sophisticated randomness will be a great addition to the collective intelligence of Web3. Supra has the potential to open up use cases that were implausible before by redefining liveliness of oracle feeds, and we will be dedicated to exploring new boundaries with the team."
Sound Ventures
Maaria Bajwa, blockchain investor at Ashton Kutcher and Guy Oseary's Sound Ventures, said: "Supra and its incredible team have spent the last few years building a powerful oracle that has the flexibility and usability to scale with this ecosystem as it continues to accelerate in growth. Its node architecture ensures better security than existing oracles, while still processing information at faster speeds. Faster speed is critical to driving Web 3.0 closer to real-time transactions and replacing legacy systems. With a powerful oracle like Supra, DeFi users will now be able to easily offer loans across multiple chains and currencies, thereby expanding the market opportunity in DeFi. And all of this at a cheaper cost for developers and a better environmental footprint."
Prosus Ventures
A spokesperson for Prosus Ventures said: "As DeFi use cases expand and scale, new multi-chain oracle solutions will need to come to market. We believe Supra's technology will be a key component of the Web3.0 DeFi ecosystem, significantly increasing transaction finality to mere seconds, while improving security and enabling cross-chain interoperability. What is also apparent to us is the team's deep understanding of this space, and we're confident in their leadership and roadmap to achieve what no other oracle solution has yet been able to accomplish technically."
Huobi Ventures
A spokesperson for Huobi said: "Huobi Ventures is thrilled to invest in Supra as they create and build the next-generation oracle infrastructure. We believe their seasoned team of highly experienced professionals will deliver a best in class oracle solution that improves upon the performance and security of existing oracles, and provides a premium product for users. Combining the founding team's extensive experience with their long-term vision, we look forward to supporting this ambitious organization."
FiveT Ventures
A spokesperson at FiveT Ventures (formerly Avaloq Ventures) said: "FiveT Fintech, an early-stage investor in web3 and financial services infrastructure working closely with Avaloq's ecosystem consisting of over 150 financial institutions, is proud to participate in Supra's strategic financing round. We see a growing need for verified off-chain data and are convinced that Supra's ability to operate in such a fast, reliable, and highly decentralized way will enable new game-changing applications. Getting to know Supra's team, we were impressed with their profound knowledge and fast-paced execution skills. For FiveT Fintech, Supra marks an important additional piece to complement our strategic investments in crucial web3 infrastructure and we are excited for close collaboration within our ecosystem."
HashKey
Harper Li, Investment Manager at Hashkey Capital, said: "Supra is positioned as an IntraLayer with native oracle, native VRF, and native automation. Native oracle is the earliest product, which has been tested on more than 20 testnets. Native VRF combined with DKG technology solves the problem of public output and latency in this field compared with other random number solutions. In the future, the development of native automation will be introduced into the on-chain automatic execution, while the combination of on-chain automatic execution and the abstract account has a lot of imagination space."
Sublime Ventures
Musthafa Ahmed, General Partner at Sublime Ventures, said: "What started out as a mission to create a next-gen, decentralized cross-chain oracle solution, has evolved into so much more. Perfectly primed to set the gold standard as Web3's first intralayer solution, Supra is on track to dominate the industry with their superior and unparalleled tech stack, whilst also acting as the backbone unifying all major ecosystems in the sector."
About Supra
Supra is building a low-latency interoperability infrastructure to provide Web3 capabilities that traditional blockchain designs lack. Supra, as a vertically integrated IntraLayer™, enables a shared security paradigm across a variety of oracle services. This includes securing external data on-chain, cross-chain consensus via their bridgeless HyperNova, automation, VRF, and more.
After thousands of hours of R&D and simulations, Supra's technical breakthroughs are solving the Oracle Dilemma and optimizing network performance across the board in terms of security, throughput, time to finality, composability, and programmability. Supra has taken an academic approach to development, which has been an integral part of the organization's commitment to advancing Web3 performance and security. This is characterized by a commitment to deep research, transparency, and going through a rigorous peer-review process in every design and product released.
Dr. Aniket Kate, inventor of KZG Commitments utilized in Ethereum L2 Data Availability solutions, and the Supra team are diligently composing new whitepapers, so there are still many novel solutions in the pipeline soon to be publicized. To learn more about Supra and participate in their gamified learn-to-earn program, visit Countdown to Blastoff. Lastly, sign up for the whitelist for an opportunity to be notified in advance of any possible future token offerings and for more alpha.
Contact Details
Supra
Eli Phoenix
j.elijahphoenix@supraoracles.com
Company Website
View source version on newsdirect.com: https://newsdirect.com/news/supra-completes-over-24m-in-early-stage-funding-to-date-847591291