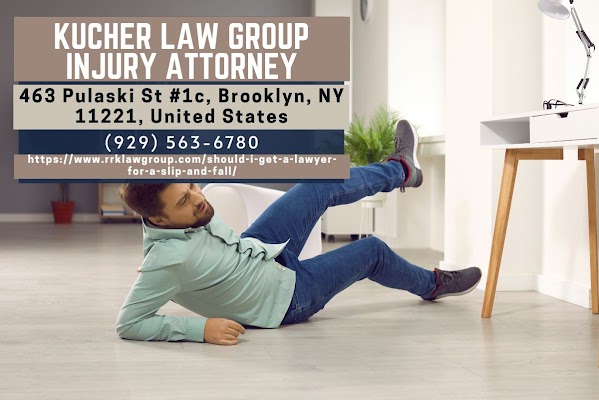 Rideshare accident attorney (https://www.rrklawgroup.com/brooklyn-premises-liability-lawyer/) Samantha Kucher from Kucher Law Group has published an in-depth analysis of the complexities surrounding rideshare accidents. The article offers a comprehensive understanding of the issues passengers and drivers face when using services like Uber and Lyft.
The article reveals that the convenience of ridesharing, which has dramatically transformed public transportation in New York, is not without its drawbacks. "The convenience is undeniable," the rideshare accident attorney says. "But when a ride across town results in an accident, it becomes an overwhelming jumble of medical bills and confusing insurance claims." As Kucher provides valuable insights into these scenarios.
The rideshare accident attorney goes on to explain the unique challenges faced by victims of rideshare accidents. According to her, "Rideshare drivers are not direct employees of the company. Consequently, if an individual is involved in an accident with a Lyft or Uber driver, the company cannot be held liable for their damages." She emphasizes that while rideshare companies are required by New York law to carry supplemental insurance, this coverage is not always available and is dependent on the driver's operational status at the time of the accident.
The article further outlines the types of injuries commonly sustained in such accidents, which include head injuries, neck injuries, back injuries, shattered bones, and soft tissue injuries. These injuries can range from minor to severe, with long-term effects on the body and brain.
Kucher delves into the matter of liability in rideshare accidents, explaining the different scenarios that can occur. These include accidents where the rideshare vehicle operator is at fault, where another driver is at fault, or where a Lyft driver was active on the app in various capacities.
She also breaks down how accident claims work for Lyft accidents in New York City, discussing the three different statuses that a driver can have at the time of an accident. Each status determines what coverage they have and what avenues for compensation are available to an injured party.
"Lyft drivers are responsible for the safety of their passengers as well as other motorists around them," Kucher asserts. "If a Lyft driver is negligent, they may cause accidents or get involved in one that could cause serious injuries to others."
Kucher's article is a must-read for anyone who frequently uses ridesharing services. It equips readers with crucial knowledge about their rights and the legal complexities surrounding rideshare accidents.
About Kucher Law Group:
Kucher Law Group is a leading personal injury law firm based in New York. The firm's skilled team of attorneys is dedicated to advocating for individuals who have been injured due to the negligence of others. With a focus on personal injury law and a reputation for excellence, Kucher Law Group has established itself as a trusted resource for clients seeking justice. Their attorneys bring a wealth of practical experience and comprehensive legal knowledge to every case, ensuring the best possible outcomes for their clients.
Embeds:
Youtube Video: https://www.youtube.com/watch?v=DbVziyr3kKo
GMB: https://www.google.com/maps?cid=5716384493669715397
Email and website
Email: contact@rrklawgroup.com
Website: https://www.rrklawgroup.com/
Media Contact
Company Name: Kucher Law Group Injury Attorney
Contact Person: Samantha Kucher
Email: Send Email
Phone: (929) 274-8000
Address:463 Pulaski St #1c, Brooklyn, NY 11221
City: Brooklyn
State: New York
Country: United States
Website: https://www.rrklawgroup.com/