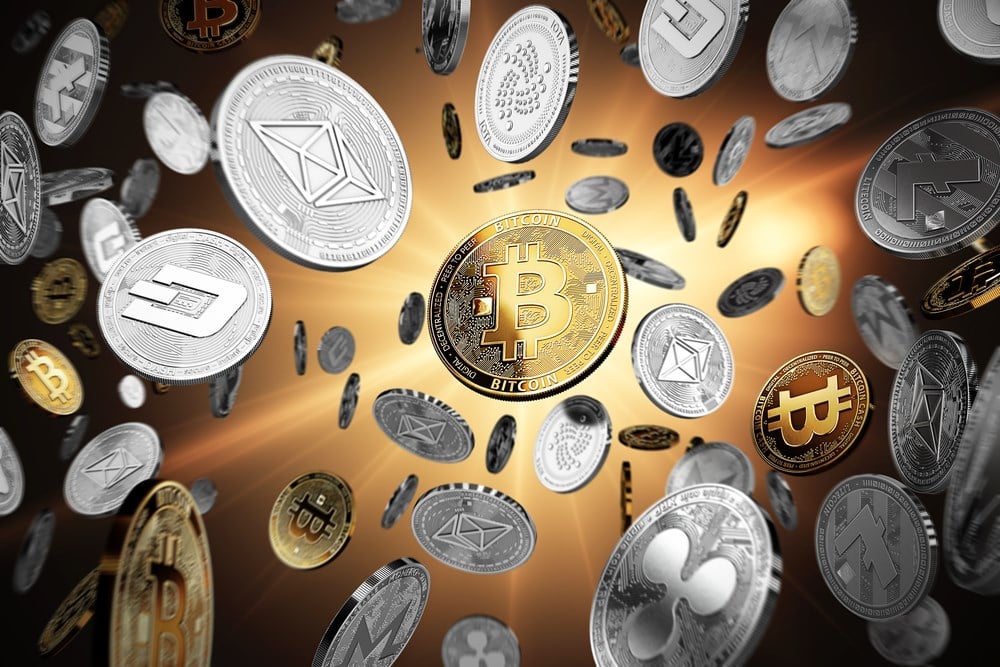 Cryptocurrency-related stocks including Riot Platforms Inc. (NASDAQ: RIOT), Marathon Digital Holdings Inc. (NASDAQ: MARA) and Coinbase Global Inc. (NASDAQ: COIN) gapped down on August 18 on news that Elon Musk's SpaceX had unloaded all its bitcoin. 
All those stocks were already significantly lower for the month of August, as cryptocurrencies were falling. While some analysts expect a crypto rebound in the not-so-distant future, others see the stock languishing for longer.  
Bitcoin's price fell by 1.94% on August 18, to $26,109.90, after rallying in July.
It's not the first time Musk has sold bitcoin; last year, Tesla Inc. (NASDAQ: TSLA) sold $936 million of the digital currency. In the company's second-quarter earnings report, it said the value of its digital assets was $184 million, the same as in the previous two quarters. 
Riot Platforms, Marathon Digital and Coinbase have similar trading patterns: Each stock broke out of a base in June or July, rallied to its best levels in over a year, then began pulling back the week ended July 21 as the price of bitcoin fell.
Riot Platforms 
Buried deep in the notes of Riot's 10Q, the official regulatory filing of its most recent quarterly results, you'll find details regarding a power supply contract with Texas energy provider TXU Energy Retail Co., to sell electricity to power the Lone Star State. 
That's a small source of revenue, but it hints at the company's diversified operations, at a time when the crypto-mining industry is facing low prices for its core asset.
The company also derives revenue from providing engineered electrical equipment products to third-party customers, and offers data-center hosting for institutional customers. 
Riot, whose market capitalization is $1.938 billion, had a revenue increase of 5% in the most recent quarter, following three quarters of earnings declines. The company has not yet posted a profit, and analysts have no expectations of that in the next two years. 
Marathon Digital 
According to regulatory filings from the Fort Lauderdale, Florida company,  Marathon's strategy is to produce and hold bitcoin, after paying for cash operating costs of production,  as a long-term investment. 
Like Riot Platforms, Marathon is also looking to expand and diversify income sources. 
"We may also explore opportunities to become involved in businesses ancillary to our bitcoin mining business as favorable market conditions and opportunities arise," the company says.
In the most recent quarter, reported on August 8, Marathon significantly narrowed its loss to 13 cents a share, an improvement over the year-earlier loss of $1.94 a share. 
In May, the company received a subpoena from the U.S. Securities and Exchange Commission, pertaining to alleged securities laws violations. That news didn't appreciably harm the stock, which continued forming a base that it cleared on June 23. 
With shares down 32.90% in the past month, the stock is not actionable at this time. Sure, value-seekers will eventually swoop in, but the timing of that could be tricky, as the stock's downside momentum is strong. 
Coinbase
Coinbase, the largest U.S.-based cryptocurrency exchange, is the largest holding in two of Cathie Woods' Ark ETFs: The ARK Fintech Innovation ETF (NYSE: ARKF) and the ARK Next Generation Internet ETF (NYSEARCA: ARKW).
The latter fund has been selling shares in recent weeks, but Coinbase still comprises 8.73% of fund assets. 
With a market capitalization of $17.36 billion, Coinbase is in a different position than smaller bitcoin companies. Its business model doesn't involve mining bitcoin or other cryptocurrencies. That arguably allows it more flexibility and increased ability to weather downturns in the price of underlying digital assets.  
Its second-quarter earnings report, issued on August 3, showed the company has been trimming expenses, and emphasizing recurring revenue in the form of subscriptions and services. The latter includes custodial fees for holding assets, as well as interest income. It's the first time trading didn't constitute the bulk of quarterly revenue. 
While Coinbase successfully weathered the debacle facing fellow exchange FTX, it, too, has fallen under regulators' scrutiny. In January, it agreed to pay New York State $50 million to settle allegations that it violated money-laundering laws. As part of that deal, Coinbase also invested $50 million into a state regulatory compliance program aimed at stopping future incidents. 
That's a hefty payment, as the company's most recent quarterly revenue totaled $707 million. 
As with the smaller bitcoin-related stocks that tumbled on the SpaceX news, it's best to keep an eye on Coinbase if you're thinking about a purchase, and give yourself some extra insurance as it begins turning higher again.